I think by now you've figured out I'm in love with all things vintage (with the emphasis on All Things). And even with as much fun as I have styling homes, I have just as much fun if not more, getting dressed. My rules of thumb: Dress how you feel. Dress how you want to feel. And dress for whom you want to be that day. For me this varies greatly from tough rocker, to Audrey Hepburn, to a country girl. Hmm. It might be fitting to say I have multiple personalities when it comes to my clothing.
You will find anything from vintage rock t-shirts to vintage ball gowns, the classic white tee, skinny and boyfriend jeans, vintage flannels, military gear (yes, I'm serious), men's ties, chunky vintage jewelry, hand bags from nearly every era in the 20th century and 70's wild jumpsuits (of'course!). Some look in my closet and wonder if those overly bright patterned dresses, glitter shoes and obnoxiously big skirts are costumes. They are not! They are are part of my everyday freaking fantastic wear.  And simply put, my closet is a vintage wonderland.
My friends come to play often. In fact, my friend Farra Miron did recently. You may know Farra of Hostess Haven. Farra and I like to work creatively together to make beautiful things. We also like to hang. Farra asked me to take her to flea marketing and help her buy some vintage gear. Truth be told, we wanted to play and share it with you.
So here are some of my tips for wearing vintage or really anything.  XO – Smid
P.S. All items except the shoes were flea market scores!
Photos by Shelby N. Clark
Business chic or or hot date? It doesn't matter. She is owning it. I love the bold classic pattern on this dress. The tie makes it a bit provocative. The dress is super short but because of the tie and and the classic pattern, it's a very smart dress. I threw this with a simple high pair of black heels. The dress is very powerful and you wouldn't want anything fighting with it or drawing attention from it. The heels are weaved and appear more casual.  A color shoe, in my opinion, would have been too much and would have pulled away from the dress. It also might have been borderline bad 80s video.  Even patent leather would have pushed the limits here. The rougher black shoe is polished and classic allowing the dress to do it's thing. The red purse was a pop of color in the right area. No need for a lot of jewelry here as the dress does it all.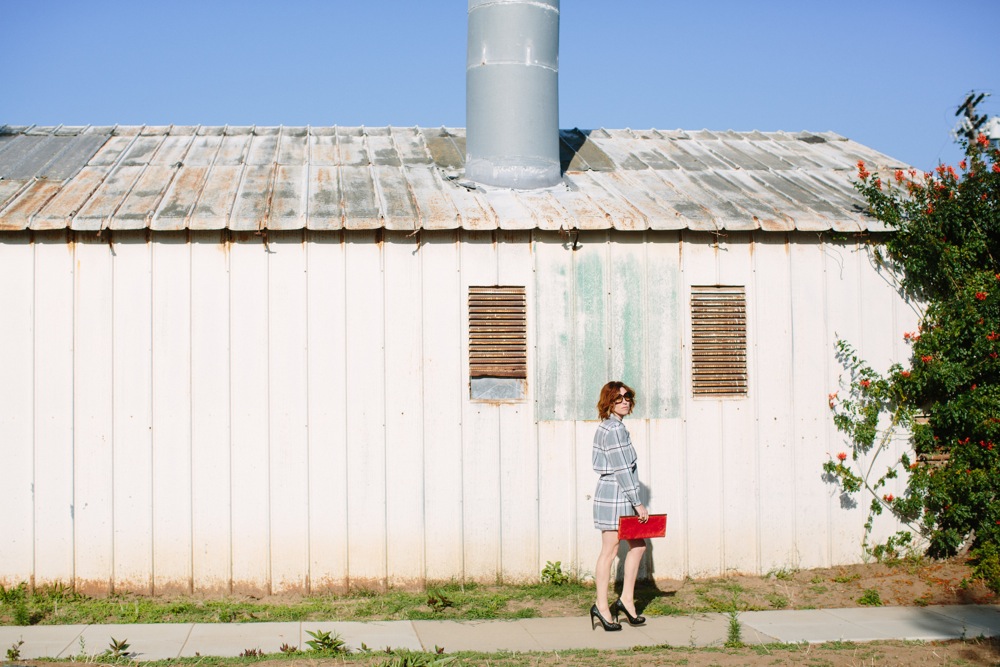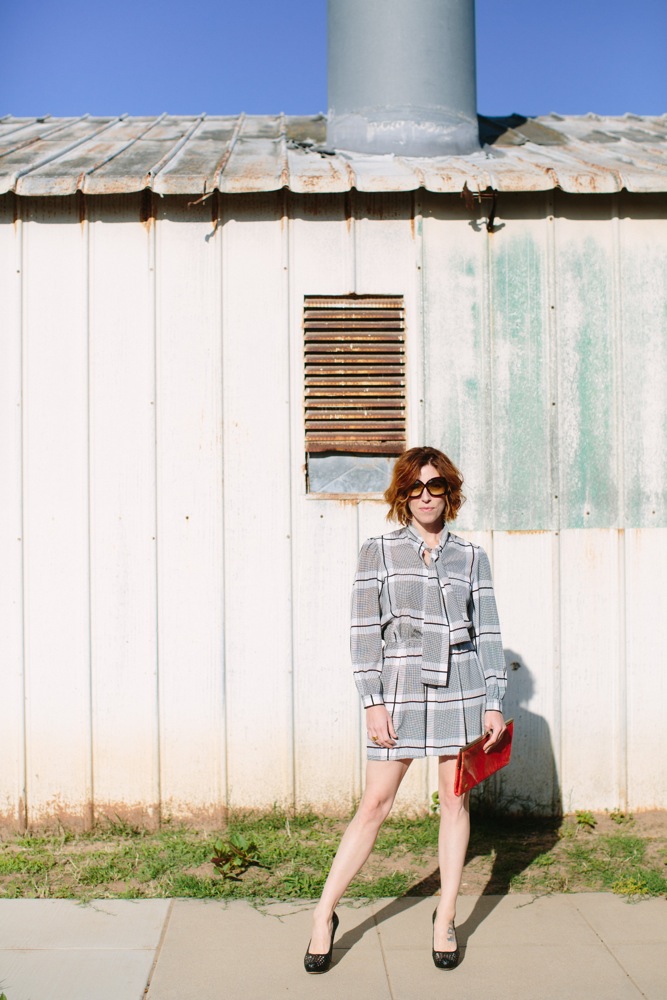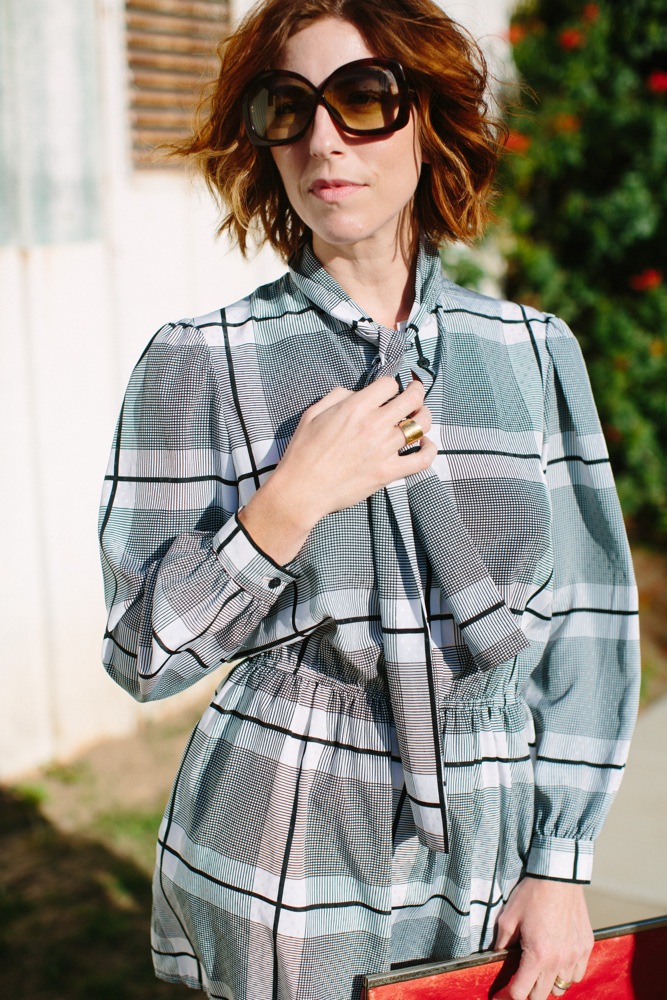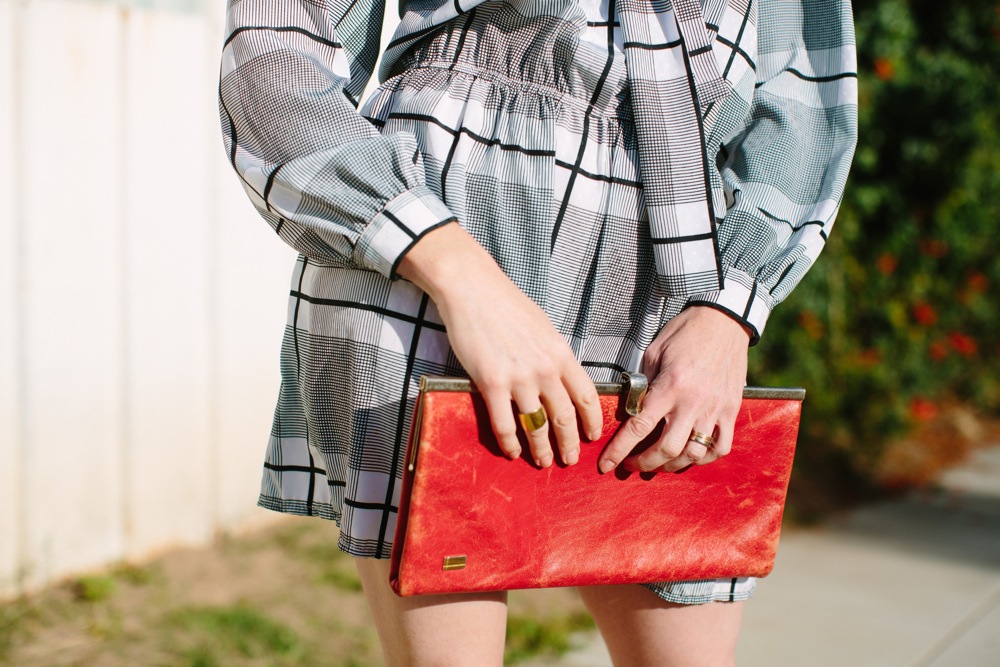 Mix it up!  I love mixing things up or throwing things off a bit with what I wear and with my life.  I recommend it as  it keeps things unexpected. I like to dress like I design. It puts me in the mood.  In fact, it's probably more appropriate to say, I design like I dress; incorporating rock-n-roll, with vintage and modern classic lines. We found this beautiful peach silk pleated skirt and paired it a few different ways. The first being my favorite. Farra really doesn't like football, but she's rocking that shirt like a Monday morning quarterback.
.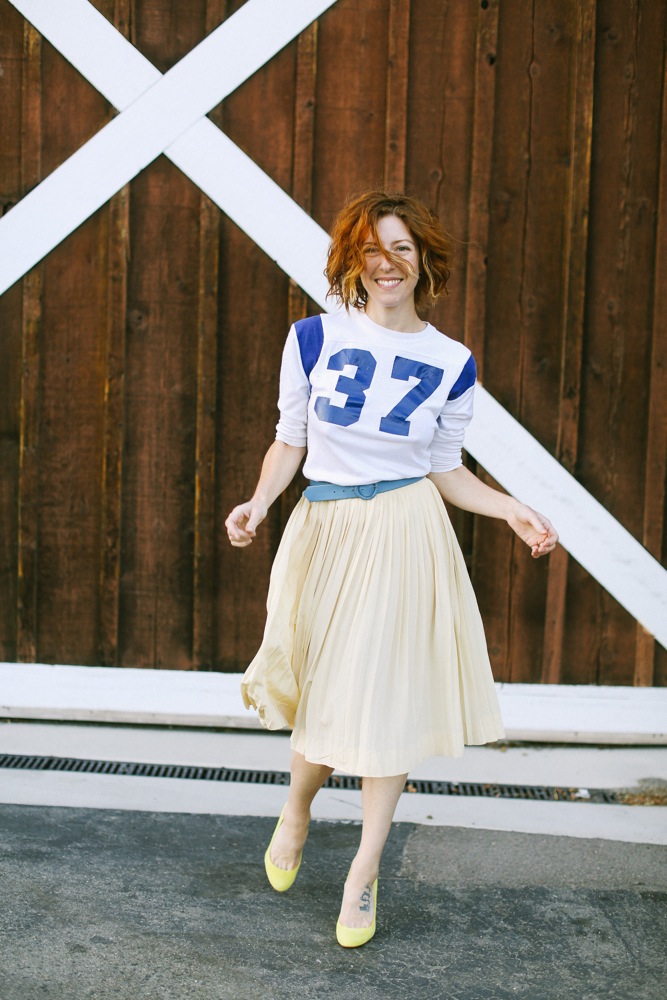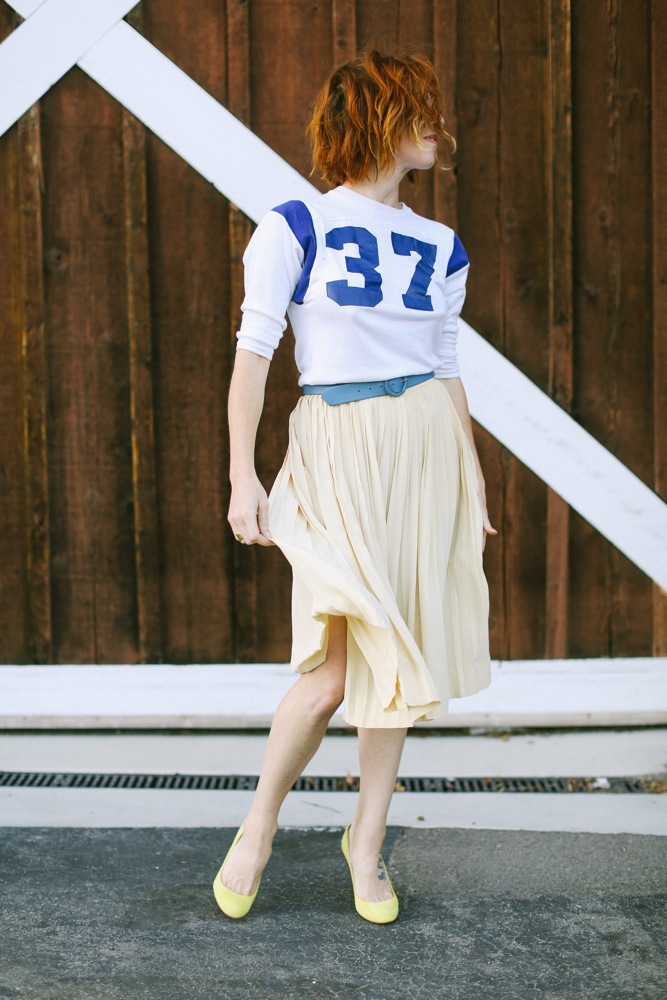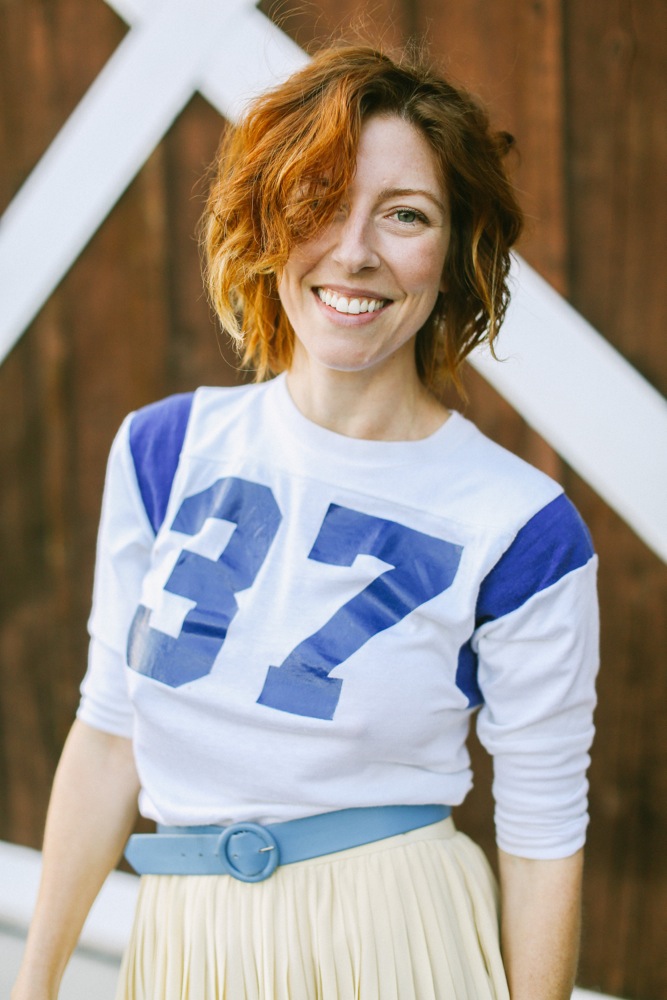 Mix fancy with tough: Dumb it down with a bad ass pair of boots: Silk 40s skirt. Who cares? Even when you have a sequin skirt, throw it on with a old tee and cowboy boots during the day.
Don't wait to wear something. I'm not really one to save fancy for a special occasion. I believe that if you buy it, you wear it. I like fancy skirts with cowgirl boots and beat up tees on any given day. We can't take clothes with us when we die. So why wait? We should wear them now and wear them well. Even when I'm moving furniture, I'll be in vintage. And it's likely a jumpsuit. They allow me to move around and feel good while doing it.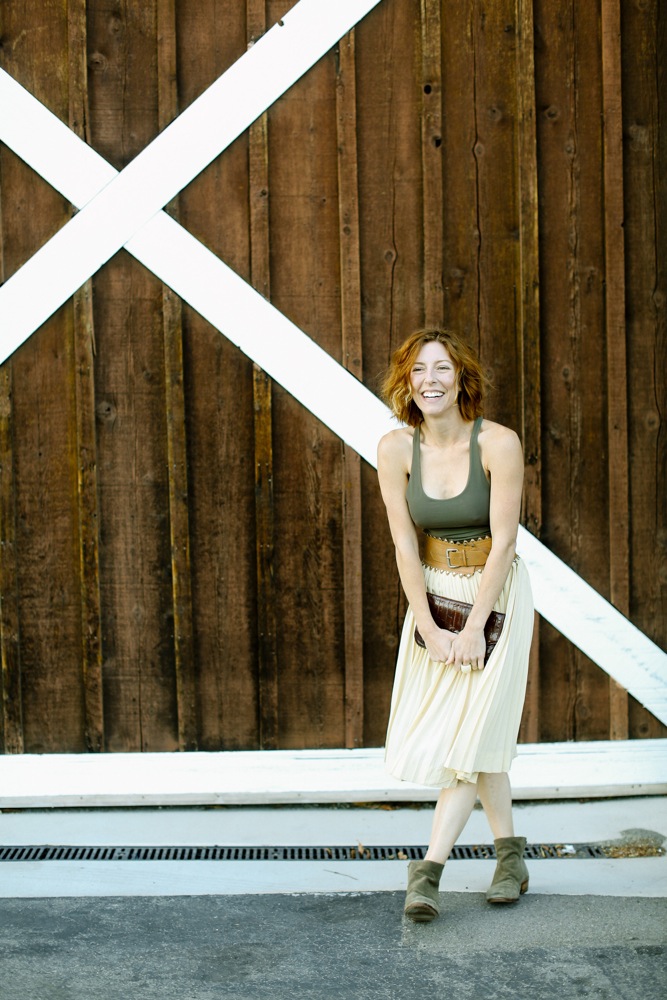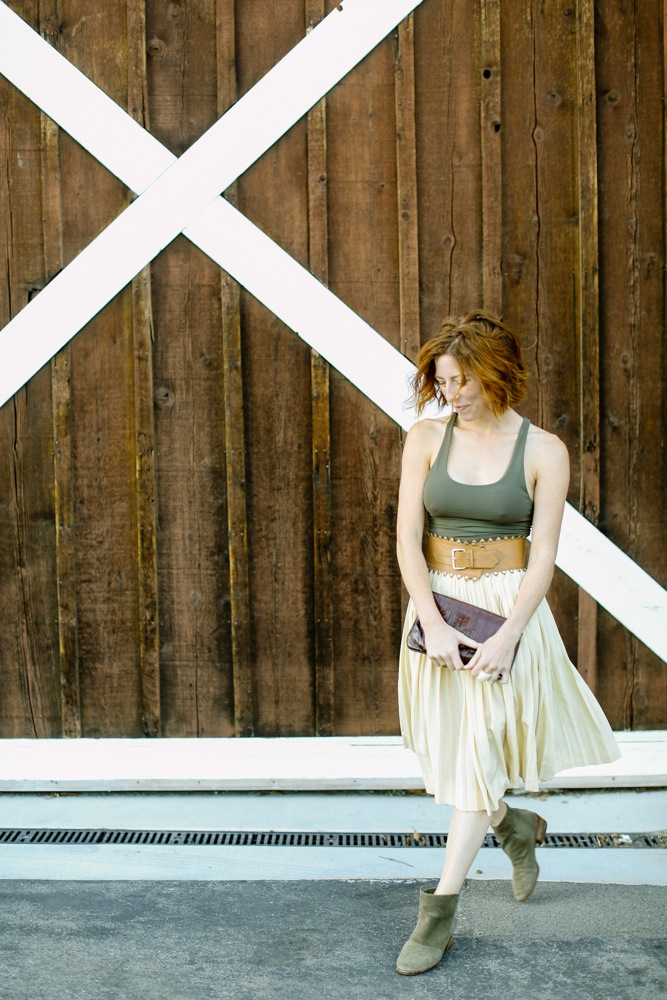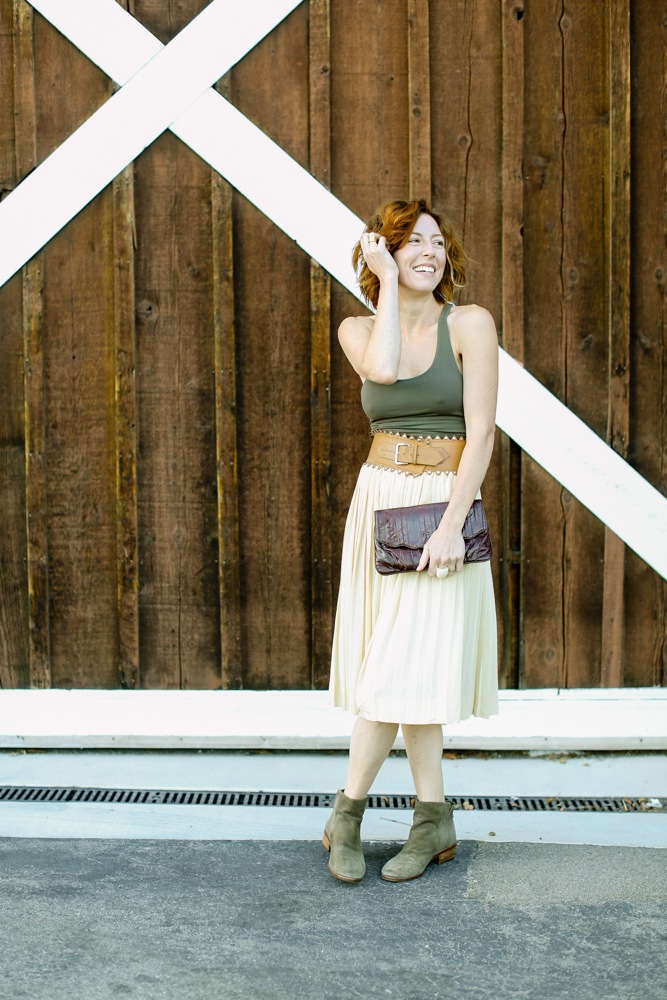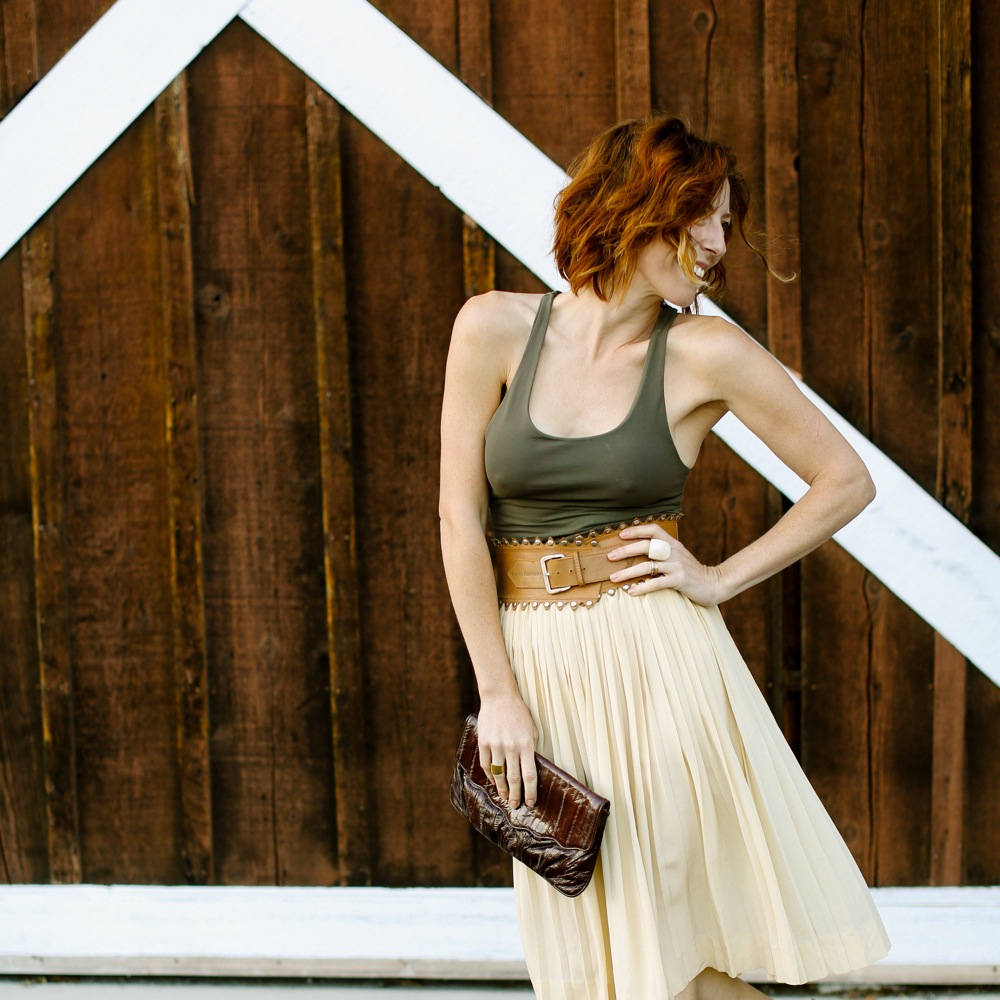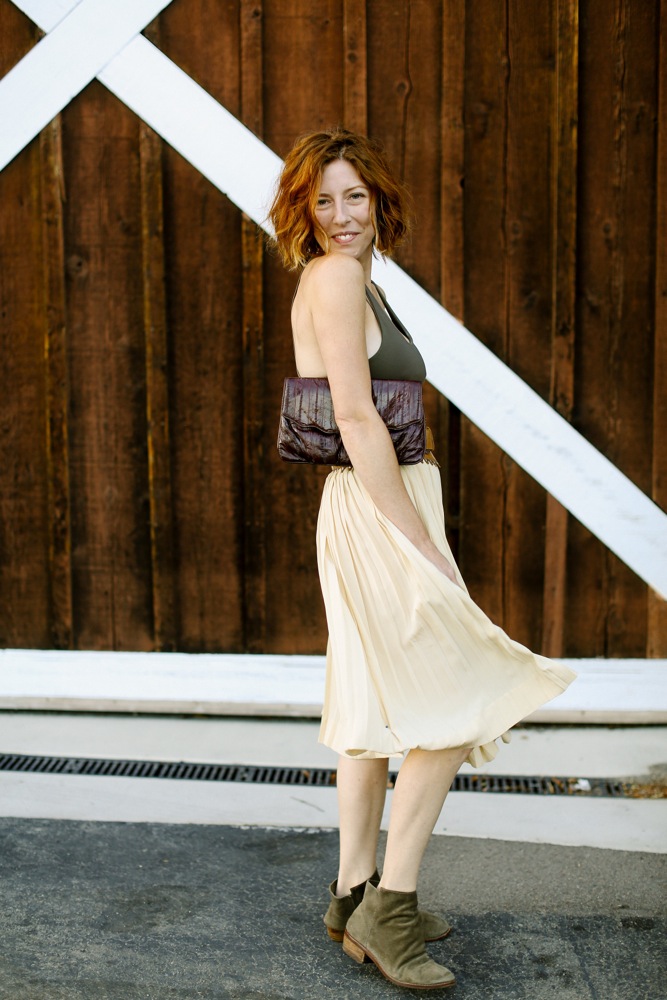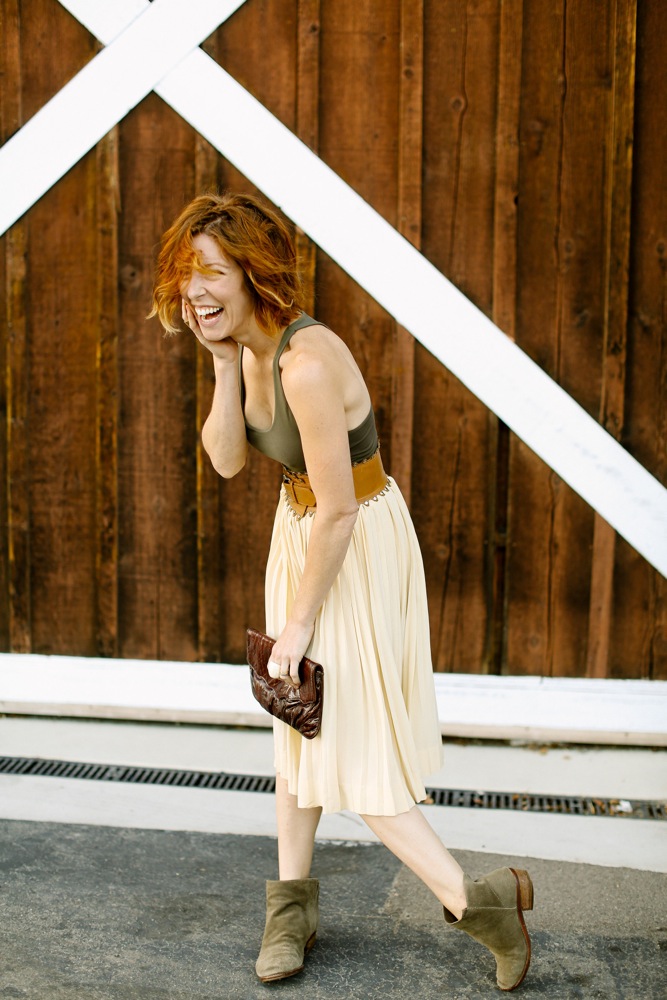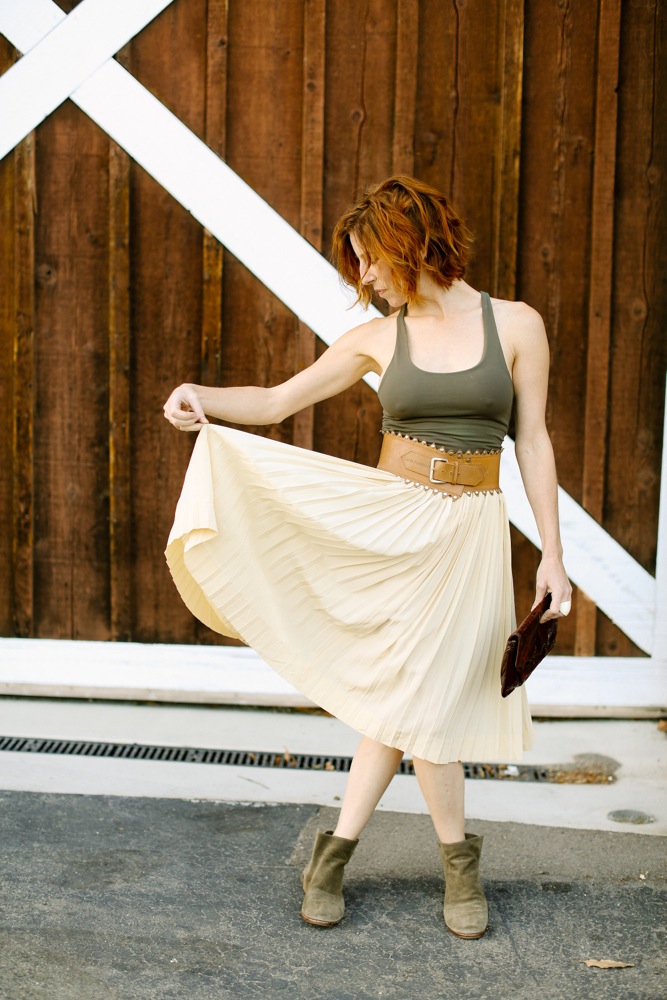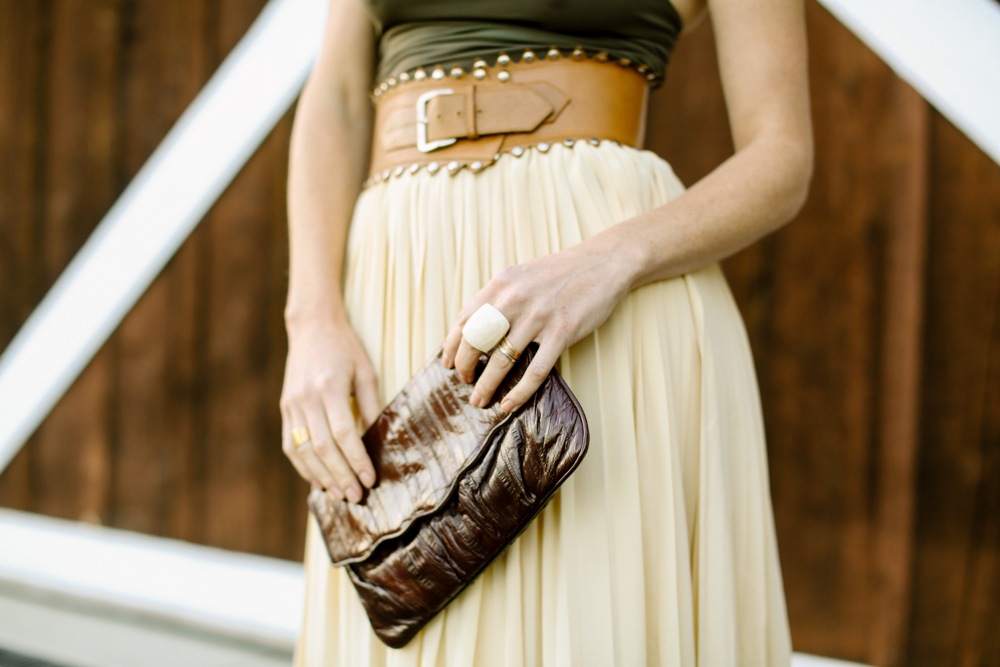 Stilettos are a must. Please figure out ways to mix those in…A LOT. LOTS and lots. And mess your hair up bit so you don't look too polished. 
Red and peach? Or Red and pink? Better yet. Red head in red and peach? It's fantastic and unexpected. After seeing this outfit with the red belt, can you imagine it with black? Ooh no! Big belt. Big color! And I'm sorry but, we couldn't have planned those sweet highlights at the the ends of her hair any better if we had tried. Sweet peaches!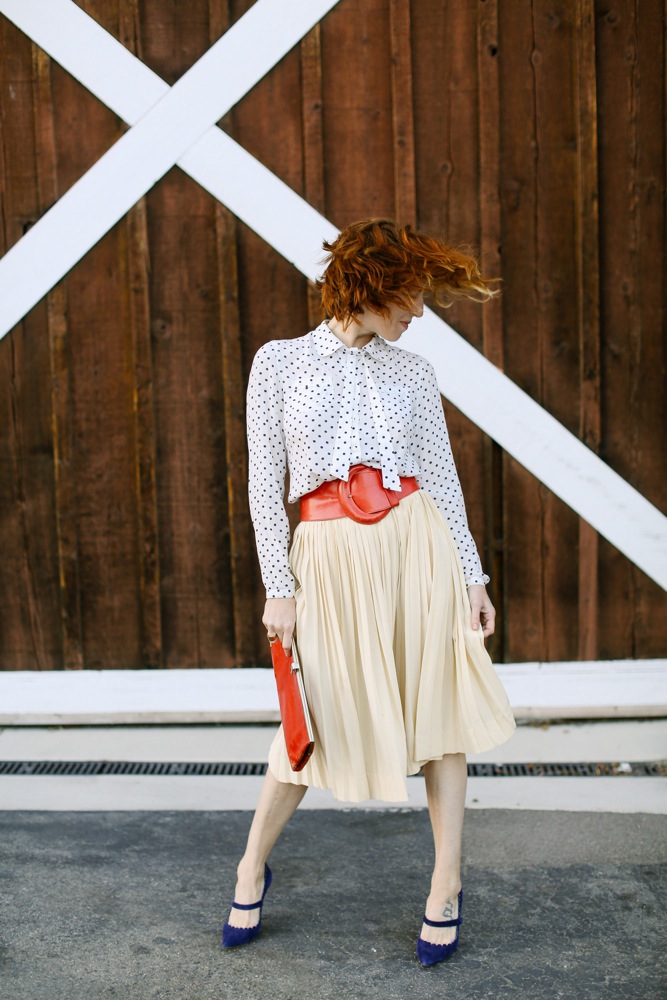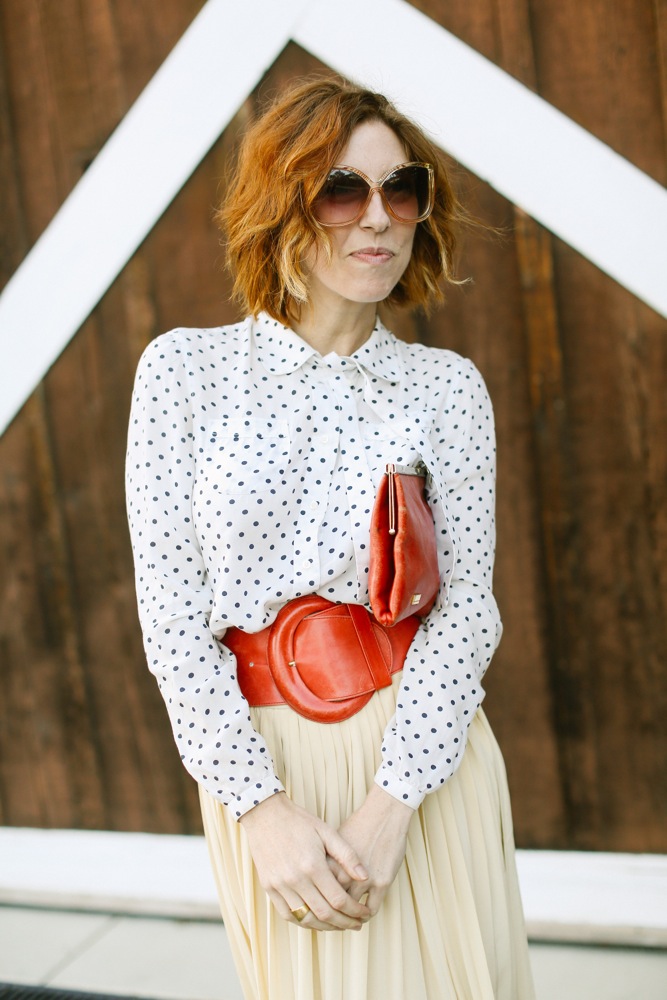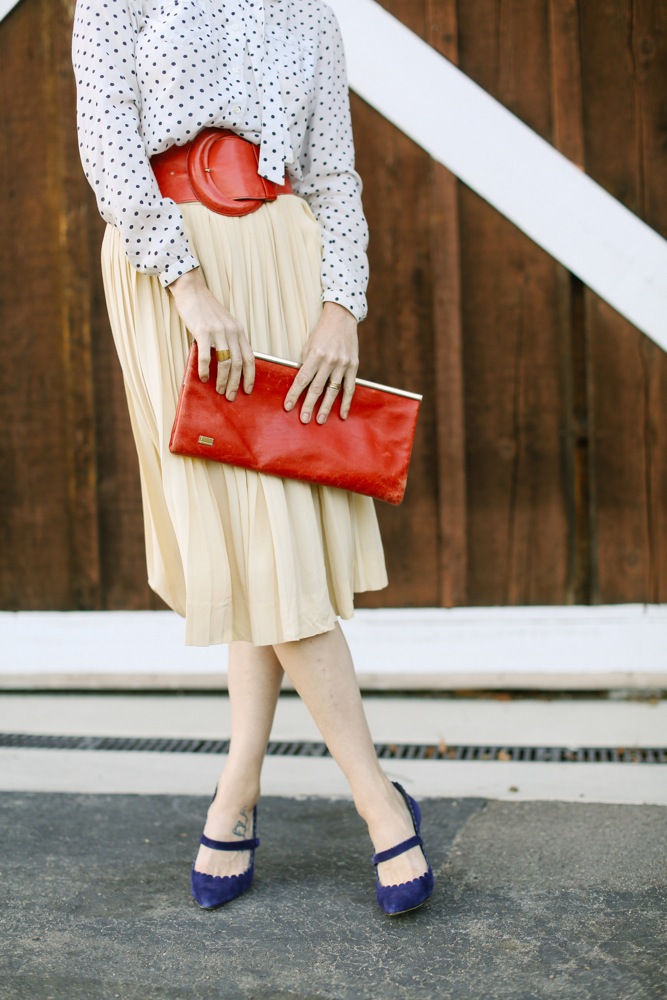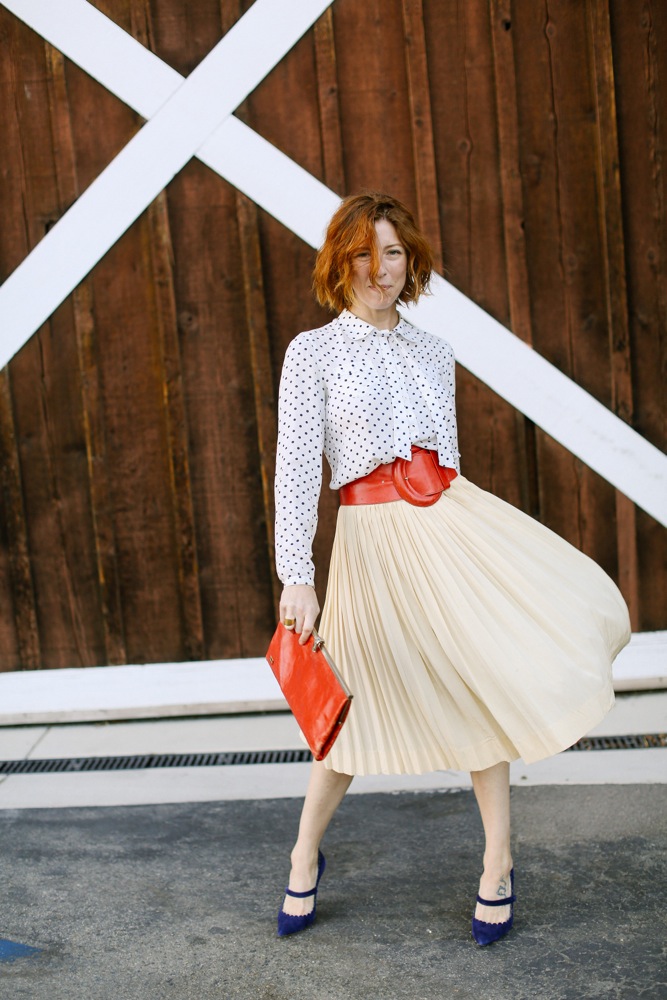 Playing with pops of color: I love having a simple canvas and then adding different saturations of one color. This is probably where I start to channel Audrey. We found this simple white lace tank and a country lace skirt but pulled in the waist line with a pop of color and very elegant shoes. Honestly this skirt looks great with a sleevless tee and boots but we show it here a bit more classical.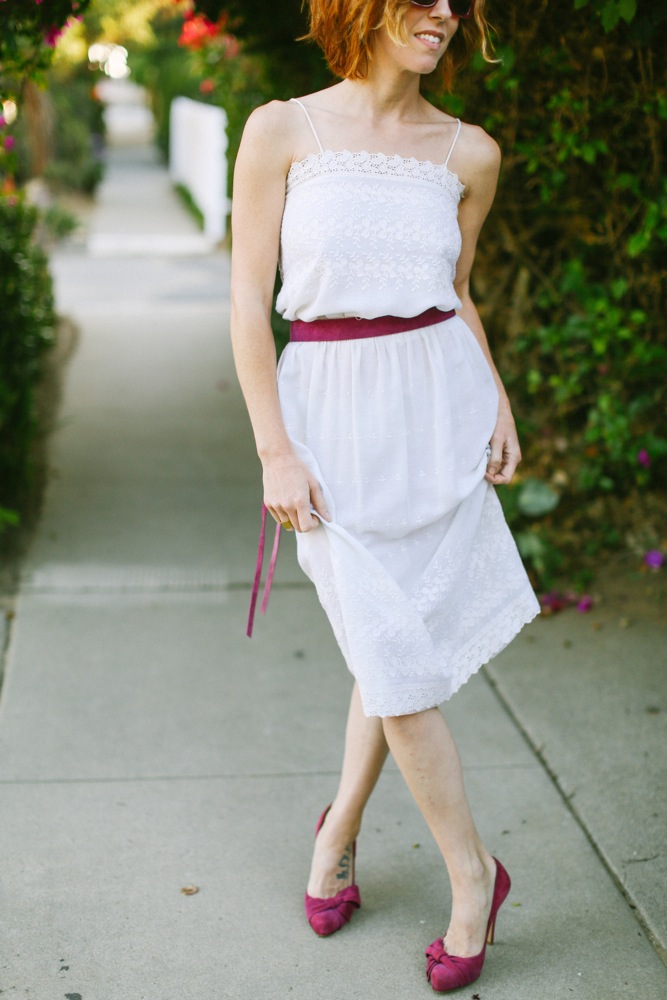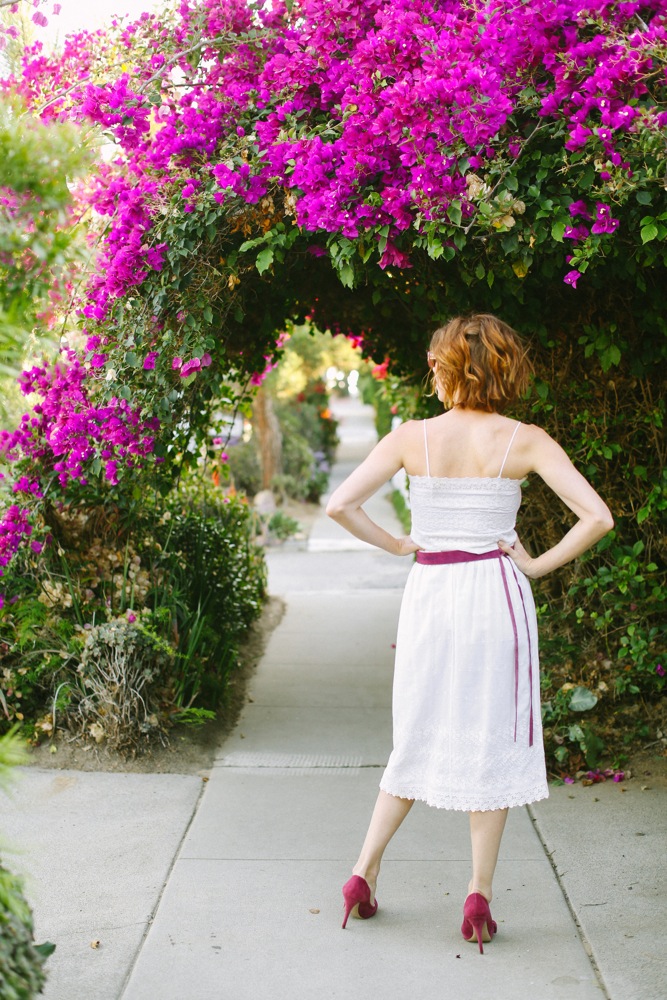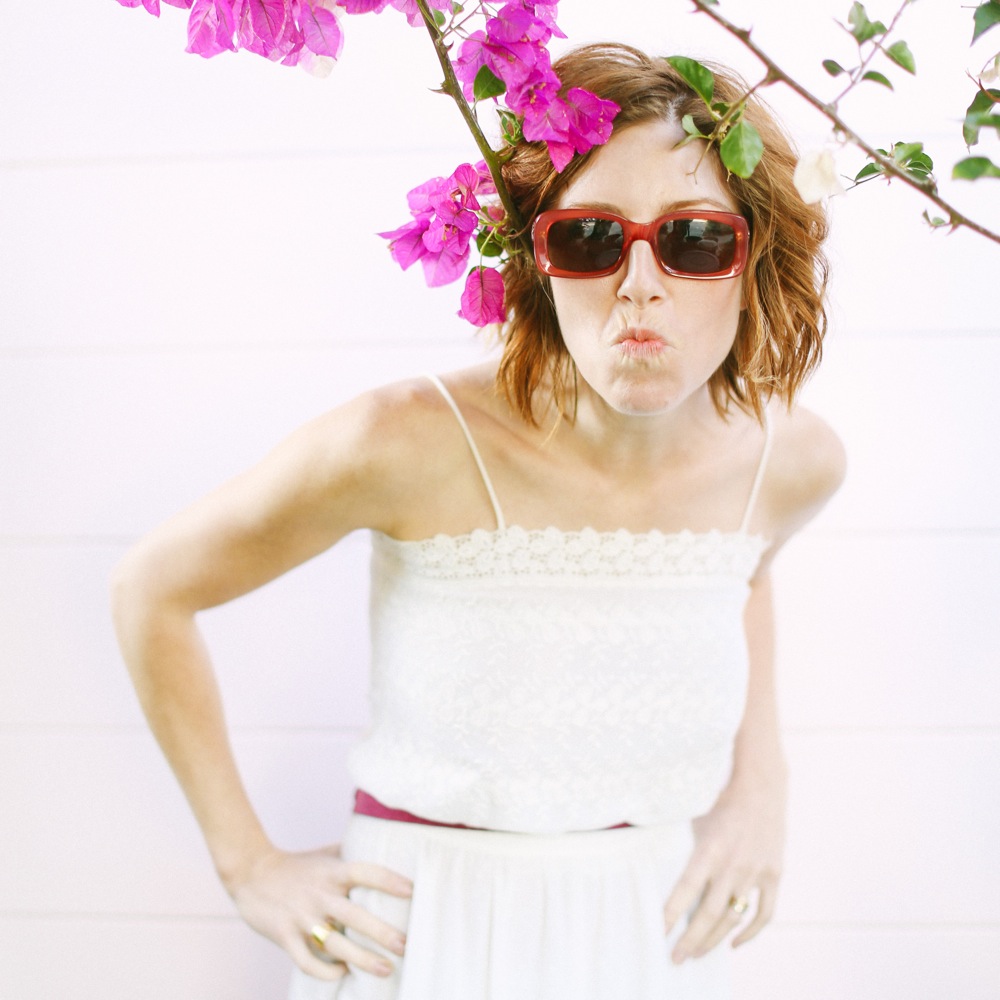 This outfit plays with saturation too. Notice the yellow and pink tonal play with the accessories. The pattern on the dress also plays with the mural on the wall. That was just for fun.